Looking for a shortcut to great combinations? The concepts below will help you understand how to put together your own suit and tie combinations. Here are a few basic tips that will help you refine your approach to picking out some winning shirt and tie combinations. So, let's start!
COMBINATION 1: SOLID TIE ON SOLID SHIRT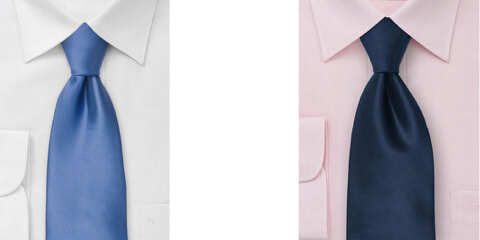 This is the most convenient and low-risk combination: the solid tie and solid shirt combo. Here are 3 ways you can use to make it look better.
Use contrasting color combinations. If you wear a solid white, light blue or pink shirt, you can choose any color solid tie you like. Using contrasting colors, you can make your outfit pop with a bit more color.

Use analogous color combinations. For example, if you have a light blue shirt, you can try it with a solid dark blue tie. A pink shirt is a perfect match for a red, maroon or purple tie.

Avoid mistakes. Never wear a tie that is the same exact color as your shirt.
By the way, some knots are perfect for solid color ties, for example, the Eldredge knot. 
COMBINATION 2: SOLID-ON-PATTERN / PATTERN-ON-SOLID
This combination is also classic and provides for 2 options.
Solid tie on a patterned shirt.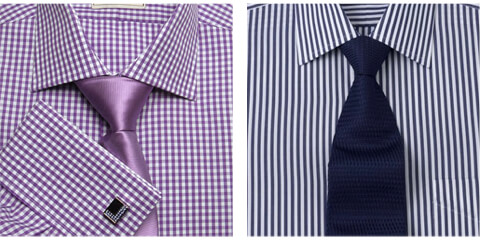 A solid tie on a patterned shirt is one of the easiest ways to work patterns into your outfit. Here's what you must remember: match the color of your solid tie to the color family of one or more of the colors in your shirt pattern. For example, a dark blue tie works well with a blue striped shirt.

Patterned tie on a solid shirt.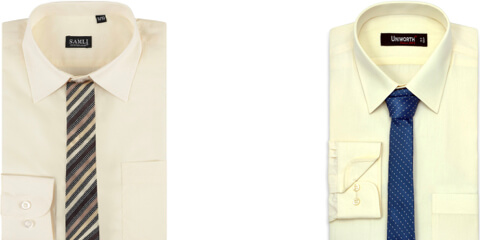 And vice versa, a patterned tie on a solid shirt works on the same principle. Just match one or more of the colors within the pattern of the tie to the color family of the solid shirt. For example, a yellow and brown striped tie is a good match for a light yellow shirt.
One of the proper tie knots for a patterned tie is, for example, the Pratt knot. 
COMBINATION 3: PATTERN-ON-PATTERN
Many guys just avoid mixing a patterned tie with a patterned shirt, because they are afraid they'll end up looking like a layman. Here are some tips explaining how you can make pattern-on-pattern combinations that actually work.
Use different pattern types. Avoid using the same pattern in both your shirt and your tie. If you have a striped shirt, don't pair it with a striped tie.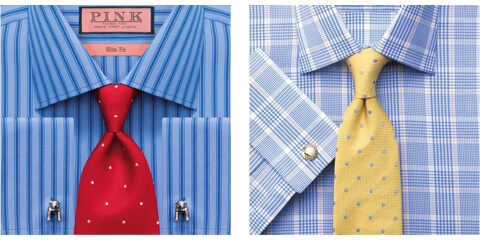 Vary pattern size/scale. In other words, the patterns on your tie should be larger and bolder than the patterns on your shirt. For example, a thick wide-striped tie would work with a thin-striped shirt, but not with a thick wide-striped shirt. Having patterns of the same size (or type) can result in an overly busy look.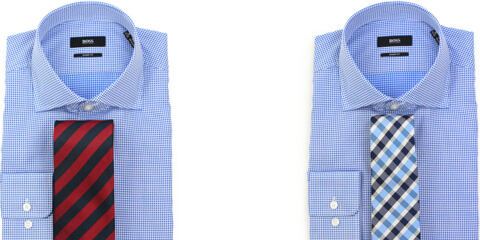 Match a detail in the tie with the dominant color of the shirt. It means, that you should look for a tie with some of the colors of the shirt within its pattern. For example, lavender and blue checkered shirt would pair nicely with a brown (or any other base color) tie with blue and lavender patterns.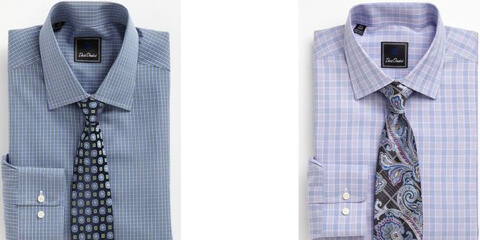 The brighter or bigger the pattern is, the simpler and more casual the tie knot must be. Such tie knots as Windsor or Four-in-hand are perfect for ties with bold patterns.